Hello, my name is Sari Berkovich. I am a proud sixth generation member of the famous ATIK family from Jerusalem. I was born in Israel and until my marriage I grew up in Holon, which is located close to the major city of Tel-Aviv.

My interest in drawing and paintings came about as a result of my profession as a practical building engineer. While planning and supervising various grand projects, such as: hotels, hospitals and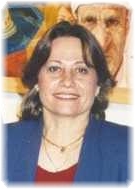 public buildings, I further developed my abilities for exact drawing and spatial sight.
While taking my hobby more seriously, I have learned classical drawing and illustrating with colors, along with additional studies of the History of Art at Haifa University.
During the years 1986 to 1988 I studied drawing, illustrating with colors and collage at the Oranim College in Tivon.
In 1989 my studies continued, by majoring in collage and silk printing in Emek Yizrael College.
In 1995 I met the artist Rivka Golan, who taught me the technique of painting with Tempera medium.


Tempera is a white pigment mixed with egg, oil, damar varnish and water. In the process of this technique the painting is covered with a very thin layer of oil color, on which the white tempera layer is placed. This process helps to reflect light. In order to receive a three-dimensional feeling, one has to work with many layers of color. During the placement of each layer one has to wait for about one week. The final result becomes evident after placing many layers of color, along with many hours of work.

Today I use many painting techniques, such as: acrylic, oil, oil & tempera. Sometimes I mix some of the techniques together. For example, acrylic & oil or acrylic & charcoal. The paintings are carried out in various sizes, beginning with 35/50 cm (14"/20") and reaching up to 100/150 cm (40"/60").
The brightness and clean lines of my paintings express the optimism and joy of life. The subjects are taken from my life environment, adventures and views. Some even touch fantasy.


In 1998 I received a scholarship from the Zvulun Regional Council of Northern Israel, and consequently, I became a member of The Israeli Painters and Sculptors Association.
I am married and the mother of twins. I live in a village near Haifa, where I am the owner of an attractive gallery and a studio.



This is an invitation to visit my gallery (Please contact me in advance - see the Contact Me page, or E-mail to: webmaster@sari.freeservers.com). You will find some of my drawings and paintings in various exhibitions (check the Exhibitions page) or you can take a glance at a sample of them on my Paintings page.

Unimplemented ISML Tag: TYPE=
No. of visitors in this site: 46038
© Copyright 1999 Sari Berkovich. All rights reserved. Any reproduction or distribution of the artwork presented here without the prior consent of the artist is strictly prohibited.
Last revised: 06/13/00.